TASC (Formerly GED) Testing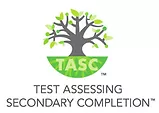 Beginning in January 2014, the Indiana High School Equivalency Diploma is based on the completion of five subtests: math, reading, writing, science, and social studies. This high school equivalency testing uses TASC (Test Assessing Secondary Completion), which replaces the GED testing previously offered in Indiana. Test-takers still need to demonstrate proficiency in subject matter tested at the level of typical high school seniors in the nation in order to pass. More information can be found at www.tasctest.com .

Perry Central is a test site for TASC. The test fee is $90.00. Preregistration is required. Information is available by calling the Perry Central Jr./Sr. High School office at 812-843-5122 and ask for Brandy Cummings, test administrator. For those wishing to obtain copies of old GED test scores and records, they MUST do so by utilizing this website: www.diplomasender.com. Perry Central does NOT furnish any GED test records. The above site is the only source of obtaining those records.
​
For Adult Education classes or to prepare for TASC please contact Perry County Adult Education at (812) 963-4521 or find them on Facebook.