TREAT YOU LIKE FAMILY
"I chose to bring the kids to PC because their dad and I graduated from there, and it always felt like such a close knit school family. Any issues that have come up have always been handled as quickly and efficiently as possible. I love having such a great, open communication with everyone, and it always feel like I'm being heard."
— Ashley Coultas
OUR PROMISE
Thank you for your interest in Perry Central Community Schools!
At Perry Central everything begins with positive, caring relationships among students, teachers, parents and the whole school community. Relevance improves student motivation and fosters self-directed learning. Relationships, rigor, and relevance...the Perry Central promise.
SMALL SCHOOL...
BIG OPPORTUNITIES
"When we relocated to Perry County in 2015, we were looking for a school environment where our kids would be challenged. Perry Central is similar to the small, rural school district where we lived in Ohio. At PC, our kids have been challenged and have developed their education foundation in order to be successful in their next chapter. We made the right choice."
— Steve Berkhouse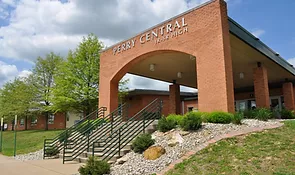 At Perry Central, our mission is learning. Our students learn from dedicated professional educators who believe in the adage, "People don't care what you know until they know that you care." At Perry Central, we respect and care about students first. That said, it is our mission to ensure that students are prepared to meet the challenges they will face, and we endeavor to provide them rich experiences in a culture of high expectations for learning. We pride ourselves on having the best of both worlds--the small, country school with big school opportunities. Read more below, and schedule a visit to see if Perry Central is the right fit for your family!
A Solid Foundation
PERRY CENTRAL ELEMENTARY SCHOOL immerses students in core subjects like reading, writing, mathematics, science and social studies within a caring, nurturing environment. Our primary grades teachers use the latest research in the Science of Reading to ensure that students have basic reading skills in place by grade 3. For this reason, over 90% of our students pass the IREAD-3 test each year. We encourage a love of reading with classroom libraries and a school library that have a wide variety of high interest books. Students are taught math through a balance of traditional computation, conceptual understanding and problem solving.
​
In addition to core content, students are encouraged to explore special areas such as engineering, computer science, music, art, physical education, and more. Students play at least twice a day at recess, and we encourage regular movement throughout the day with "brain breaks".
​
To read more about our elementary school, click HERE.
Early College High School
PERRY CENTRAL JUNIOR-SENIOR HIGH SCHOOL offers an Early College High School program with over 40 different dual credit courses. Our offerings include the Indiana College Core, which can be transferred to any public Indiana college or university. For the past three years, 30% of our graduating class has earned the Indiana College Core. When our graduates get to college, they outperform their peers, with an average freshman year GPA of 3.2 (Class of 2019).
​
In addition to traditional 4-year college prep programs, Perry Central has many career pathways that enable students to earn credentials in high school that lead to 1-2 year degrees or the option to directly enter the workforce as a skilled employee.
​
To see the complete listing of pathways and courses offered at Perry Central, click HERE.
A Community School
PERRY CENTRAL COMMUNITY SCHOOLS truly are the heart of the community. As the natural gathering place in our rural area. we recognize our opportunity to serve a wider purpose than traditional K-12 education. For this reason, we welcome community members as volunteers and open the building in the evenings to a wide variety of organizations for meeting space. For the past 20 years, we have offered free before and afterschool programming to support working families, including evening transportation that departs school at 5:30 on Monday-Thursday.
​
We also serve families through Perry Central Family Outreach, which provides monthly families events and support services for those in need.
​
To read more about our afterschool and family outreach programs, click HERE.